Washington DC's Premier String Quartet for Fine Events
Sage String Quartet- a classical music ensemble based in Washington, DC- creates extraordinary music for discriminating private and corporate clients. Under the direction of violinist/violist Kyung LeBlanc, Sage has become a celebrated and sought-after musical ensemble. Sage provides highly customized musical event entertainment and reflects the personality and essence of each client, whether it's for a once- in- a- lifetime wedding, annual celebrations, or private house concerts.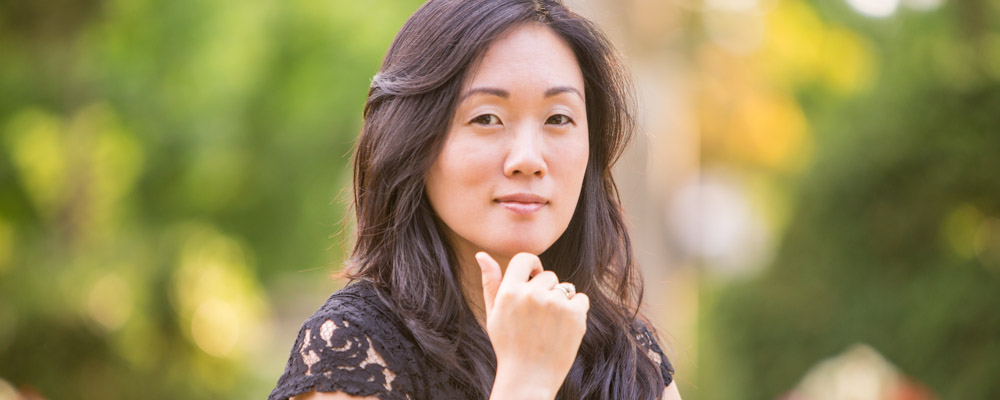 Kyung LeBlanc
Founder & Violin/Viola
Kyung LeBlanc is a native of Korea. She maintains an active career as a chamber and orchestra musician in Washington, DC area. As an orchestra musician, she plays with Wolf Trap Opera Orchestra and with Washington National Opera Orchestra as a guest musician. Her freelance work has included performances with Gloria Gaynor, Il Divo, Diana Krall, Smokey Robinson, Trans-Siberian Orchestra, The Irish Tenors, Johnny Mathis, Anne Murray, Josh Groban, among others. She has played as solo violin/viola in numerous musicals including Mean Girls, Motown, Pippin, The Book of Mormon, If/Then, Les Miserables, The King and I, Fiddler On the Roof. Ms.LeBlanc received a Bachelor of Music degree at the University of Michigan and pursued further studies at Aspen Music Festival and School and at the Cincinnati College- Conservatory of Music.
"I can't speak highly enough of their performance!"

− Tim
"My experience with Sage String Quartet was nothing short of outstanding."

− Beth
"beyond satisfied"

− Daniela
"The musicians were punctual, dressed perfectly, and played flawlessly."

− Sarah
"wonderful to work with"

− Lindsay
"they looked and sounded absolutely first-class"

− Jessica
"My favorite vendor to work with"

− Day
Sean

a native of Alexandria, Virginia, Sean maintains an active career as a recitalist, chamber musician, and teacher. After receiving a Bachelor of Music degree from the Cleveland Institute of Music under the tutelage of Richard Aaron, he then pursued further studies at New England Conservatory, where he studied with Paul Katz and performed as the cellist of the Honors String Trio. Sean has received top prizes at several orchestra concerto competitions, including Fairfax, Arlington, and Alexandria, and has performed repeatedly as a soloist with the Washington Metropolitan Philharmonic and the Friday Morning Music Club orchestras. He has performed as a chamber musician and recitalist throughout the United States and Europe, and has participated in festivals including the Soesterberg International and Taos Music Festivals. Sean performs frequently in the Washington, DC area, where he has been featured as a soloist and chamber musician at the Korean, German, French, and Austrian embassies, and the Kennedy Center Millenium Stage and Terrace Theatre. He maintains a large teaching studio, and his students have routinely been selected as members and principals for area orchestras, including district and county orchestras and the American Youth Philharmonic.

Carrie

Cellist Carrie's musical endeavors cover the span of solo, chamber, and orchestral playing. She is a newest member of The President's Own, Marine Chamber Orchestra. As a soloist, Carrie has performed as soloist with the Florida Orchestra and the Apollo's Fire Baroque Orchestra of Cleveland. She appeared at the Norfolk and Sarasota chamber music festivals, and performs throughout New York City in such notable venues as Carnegie's Zankel Hall, the 92nd St. Y, and Le Poisson Rouge. Carrie was a fellow at the New World Symphony from 2009-11, and was recipient of orchestral fellowships at the Tanglewood Music Center and the Britten-Pears Young Artist Programme in Aldeburgh, England. She recently joined the string faculty at the Capitol Hill Arts Workshop and serves as a faculty member with the DC Youth Orchestra Program. She has also taught at Queens College and the Harlem Opus 118 School in New York, and for the National Youth Orchestra of Honduras as a part of an arts teaching initiative sponsored by the U.S. Embassy. Carrie holds degrees from the Eastman School of Music and Indiana University, and is currently pursuing doctoral studies through a fellowship at the City University of New York's Graduate Center. Her primary teachers include Steven Doane and Janos Starker.

Regino

Regino is an active soloist, concertmaster, and chamber musician throughout the Washington DC area — Regino is currently the Assistant Concertmaster of "The President's Own" U.S. Marine Chamber Orchestra and regularly plays at the White House. He also currently serves as the concertmaster of the McLean Orchestra, and he occasionally plays as concertmaster for the Chesapeake Orchestra at St. Mary's River Concert Series and the Alexandria Symphony. Regino received his Bachelor of Music degree in violin performance from the Cleveland Institute of Music and regularly plays with the National Symphony Orchestra, the Eclipse Chamber Orchestra, and the Smithsonian Chamber Orchestra. He has also participated in numerous music festivals such as Santa Barbara's Music Academy of the West, Holland Music Sessions, Musicorda, Idyllwilde (CA), and "Soundfest" (Cape Cod) with the Colorado Quartet.

Hrant

Hrant Parsamian is a prize winner in international competitions including the Houston Symphony Ima Hogg Competition, the Montgomery Symphony Fellowship, the Olga Koussevitzky Competition, and the HAMS Cello Competition in Chicago, Illinois. He has appeared as soloist with Houston Symphony under Maestro Hans Graf and Maestro Carlos Prieto, performing the Haydn D Major Cello concerto, Haydn C Major with Symphony in C and Virtuosi de Gravata in Brasil and Tchaikovsky Rococo Variations with the Lyric Theater in Hoboken, New Jersey. Born in Bulgaria, Hrant Parsamian started the cello under the guidance of his mother. His first recital was at the age of six. Two years later he gave his debut as a soloist performing J.C. Bach's Cello Concerto. In Bulgaria he also studied with international performer and educator Univ.-Prof. Anatoly Krastev. Hrant Parsamian holds bachelor degree from The Univeritaet fuer Music und Darstellende Kunst in Wien, where he studied with Univ.-Prof. Angelika May and chamber music with Univ.-Prof. Johannes Meissl . Hrant received full scholartships at The Juilliard School (Bachelor of Music), and Yale School of Music (Masters of Music) where he was under the tutelage of renowned cellist Aldo Parisot and the Tokyo String Quartet. In 2010 Hrant Parsamian won a position with the United States Army Band where he co-found the Cello Workshop and performed as soloist on numerous occasions

Armine

a native of Armenia, Armine is a prize winner of the Izabel Violin, Tuesday Musical, and the Maia Chamber Music competitions. Having recently earned Doctor of Musical Arts in Violin from the Catholic University of America, she holds a master's degree from the University of Iowa, and bachelor's from Komitas State Conservatory in Yerevan. Throughout her career, Armine has worked with world renowned artists such as Gidon Kremer, Christoph Eschenbach, Nigel Kennedy, and Kurt Masur. Her solo and chamber performances have brought her around the world including Spain, France, Germany, the Czech Republic, Russia, and Canada. She has participated in Castleton Festival, Das Schleswig-Holstein Musik Festival, and Kent/Blossom Music Festival where she received the Josef Gingold Award for her distinguished performance in chamber music. Armine plays with the National Symphony Orchestra as a guest musician and is a member of the National Philharmonic.

Saskia

a native of New York, Saskia began her violin studies at the age of four. Saskia received her Bachelor of Music in Violin Performance from the University of Michigan where she studied with Stephen Shipps and her Masters of Music from Carnegie Mellon University under the tutelage of Cyrus Forough. She has participated in festivals such as the National Repertory Orchestra, L'Academie Internationale de Musique de Montpelier, Chautauqua School of Music amongst others. She currently maintains an active performance life as well as holding a position at the Library of Congress in the U.S. Copyright Office. Saskia plays with the Alexandria and Fairfax Symphonies, Concert Artists of Baltimore, Washington Concert Opera and others in the metro DC area. In her spare time, she is an avid runner and horseback rider.

Luke

a native of Kansas, Luke is an active chamber musician and frequently requested concertmaster in the Washington, DC area. He is a founding member of the West Garden Trio, the resident piano trio at the National Gallery of Art. He was a participant in the prestigious Julliard Quartet seminar, and has given master classes at the Eastern Music Festival and Gettysburg College. An experienced orchestral musician, he has performed with the National Symphony, Ravinia Festival Orchestra, and the Chicago Philharmic Orchestra, among many others, and has shared the stage with such greats as Ray Charles, Jay-Z, Josh Groban, Mary J. Blige, and the Judds. Since 2003, he has been a member of the United States Air Force Strings, and has given performances at the White House, Vice President's Residence, State Department, the Grand Ole Opry, and has been featured on several nationally televised programs and various recordings. Luke began violin studies at age five, and holds degrees from the University of Kansas and Northwestern University.

Matthew

A native of Indianapolis, IN, Matthew recently joined the United States Air Force String Orchestra as a section violist. As a student, he was a prize winner in a number of reputable competitions including the CVS Solo Viola Competition, Michael Ben and Illene Kamisarow Young Artist Competition, BGSU and IU Concerto Competitions, Colorado College Summer Concerto Competition, and in the spring of 2010 was a chosen competitor in the Lionel Tertis International Viola Competition on the Isle of Man, UK, which have led to subsequent solo appearances with the Colorado College Festival Orchestra, IU Chamber Orchestra, Il Camerata di Vocci, and the Indianapolis Symphony Orchestra. Also an avid chamber musician, he has appeared at the Norfolk (Yale), Manchester, Bern Konservatorium festivals as well as being a founding member of the Heiffler Piano Quartet and Syrinx Trio. Matthew's principal teachers include Csaba Erdelyi, Atar Arad, Mimi Zweig, and Paul Coletti.

Sarah

a native of St. Louis, Missouri, Sarah has been a violist with "The President's Own" U.S. Marine Chamber Orchestra since January 2009. She has performed at the White House, at the Kennedy Center with the National Symphony Orchestra, in Japan with the Pacific Music Festival, and in Europe with the Orchestra Giovanile Italiana. Sarah received her Master of Music degree in Viola from Indiana University Jacobs School of Music, and is currently pursuing a Doctor of Musical Arts degree at the University of Maryland in College Park with Dan Foster, Principal Violist of the National Symphony Orchestra.

Sean Neidlinger

Cellist Sean Neidlinger enjoys an active career as a recitalist, chamber musician, orchestral musician, and teacher. Described as 'fiery' and 'impassioned' by the Washington Post, Sean's playing has received top prizes at several competitions in the DC-area. He has been featured as a soloist and chamber musician at numerous embassies, the Kennedy Center, concert halls throughout Europe, and as a musical ambassador to several nations in the Caribbean. As an orchestral musician, Sean has performed with the Baltimore Symphony Orchestra, the Kennedy Center Opera House Orchestra, the Eclipse Chamber Orchestra, and has served as principal cellist of the Amadeus, Winchester, and McLean Orchestras, and the New Orchestra of Washington. Sean has performed on stage with myriad performers such as Katy Perry, Patti LaBelle, and Hugh Jackman. In addition to being a founding member and the owner of Sage, Sean is also the principal cellist of the American Pops Orchestra.